Cost of Living in London for a Family
We did better on our London budget than I had thought. I had budgeted $85 / person / day as London is a famously expensive place.   Our planned budget for the month was $9860, but we can in at $ 7269.93, over $2500 under budget for the month! What we ended up spending was $62.67 per day.
What Did We Do?
For this price we:
• Had Tube Passes and/or Oyster cards
• Saw most of the major sites in and around London
• Took day trips outside of London
• Saw 2 musicals
• Saw a movie at a funky theater in Notting Hill
• Went to a concert at St Martin in the Fields
• Did some needed shopping
• Went to the WB Harry Potter Studio Tour
• Went to Lego Exhibit on the DC comic book heros
• Visited a bunch of castles
• Went to a pro soccer game (Go QPR!)
• Stayed in a pretty nice apartment in central London
And we had an amazing time and would go back in a heartbeat!
Our Apartment
Check out the tour of our apartment in London, which was almost half our budget for the month (48.7%). While this seems very high, please keep in mind that this apartment worked out to $122 a night in central London for a 2 bedroom, 1 bathroom apartment with a washer and a dryer! We were a 7 minute walk from the White City Tube station and a 10 minute walk from the Westfield Mall. We found this great place on Airbnb.  Sign up to get a $20 credit towards your first stay! Of our first 135 days on the road, a full 60 of them have been spent in Airbnbs to great success. Read some of our tips on finding a great Airbnb here.
Some things to factor in:
• I have used US dollars exclusively. Everything was converted at the exact exchange rate we got either for cash or that our bank changed us.
• We bought a friends and family UK rail card for £30 and this ended up saving us money on our day trips outside of the city
• We exclusively used public transportation in London and never used a Taxi or an Uber.
• Keith needed new sneakers and we got the kids each a new T-shirt.
• Our Miscellaneous costs were gifts and a cheap "wedding ring" for Keith as his actual wedding ring is locked up in our safety deposit box at home.
• Health costs was a visit to a Pharmacy for a decongestant that was good for kids as Patrick was sick.
• We had a very fancy High Tea one day as well that accounted for a whopping $173 of our dining out budget!
Cost of Living in London Breakdown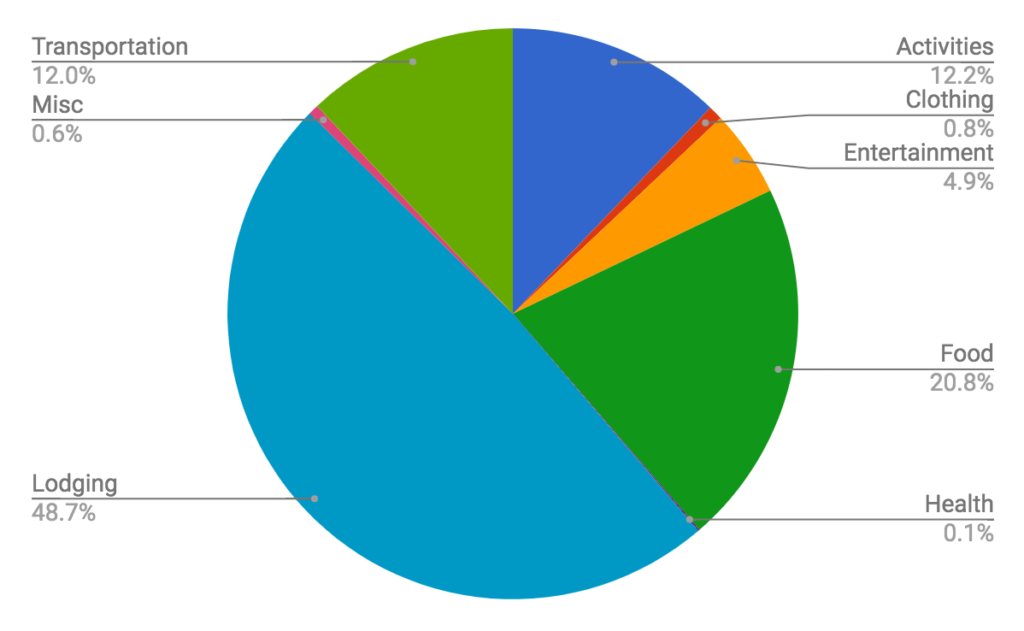 Activities:  $884.32
Clothing:   $59.12
Entertainment:  $357.81
Food:  $1509.7824
Health:  $4.7601
Lodging:  $3537
Misc:  $42.57
Transportation:  $908.03
Breaking out some of the larger categories:
Transportation:
Public:  $334.88
Train: $539.68
For public transport, that means buses and the tube / metro within London. Trains are trains used to arrive and or leave London for the day. The train also included our train to London from Liverpool and the EuroStar to Paris when we left.
Food:
Coffee: $29.1282
Fast Food: $87.55
Grocery: $803.0742
Restaurant: $551.54
Street Food: $26.88
Treats: $11.61
Entertainment:
Concert: $63.21
Movies: $65.61
Theater: $228.99